A complete, fully functioning, professionally designed, 10-page Pre-Made Website using the amazing Astra WordPress theme. Start booking your classes, events, products, services, accepting payments, and growing your email list immediately.
Made specifically for business owners and entrepreneurs who are ready to bring their business to a new level and get to that new level quickly.
Absolutely no tech required. We will install, and set up everything for you! All you need is a hosting account with a domain name and swap the copy with your own and your website is 100% done and 100% yours! 
A process so easy your mother could do it. In her sleep.
Step 1: Choose your template
Browse the collection of fresh-picked website templates and choose the one that works best for you and your brand. Once you're ready to purchase, you can either schedule your 30 walk-through call with me right then and there, or via the link in the email you receive once you purchase.
Step 2: Set it up and customize it
Now it's time to sign up for your Hosting account and buy your domain name. Don't worry, you'll receive a step-by-step guide for how to do this upon purchase! No coding (or meltdowns) necessary, promise. I'll upload your template to your hosting account for you and then we'll hop on our walk-through call to show you how to customize it.
Step 3: Launch your new site!
Once you've customized it to your heart's delight, it's time to hit "publish"! Your dream clients will be knocking on your (virtual) door excited to work with you.
Support is my middle name. Don't see yours listed? Shoot me an email at support@taylordlewis.com!
See what people love about the Taylor D. Lewis templates!
"Working with Taylor was like finding the eye of the storm! This website thing is so straightforward for her- that was such a welcome relief! She could see right away what my site's needs were and completed the work on a timely manner.

Taylor listened, asked great questions and produced a beautiful website that I can be proud of- that also works quickly and seamlessly. She is organized, quick to respond and very kind, especially when working with someone who wasn't born with the tech chip in my brain!

I highly recommend working with Taylor! She will quickly turn into your first choice of all things website! "
"I am so glad and grateful to have been connected to Taylor for my website. The videos were easy to follow and understand. Even as my website grew and expanded, she was there to assist. The best customer service experience. Taylor is very knowledgeable and goes above and beyond to help her clients. "
"Taylor was wonderful from start to finish and she got the job done quicker than I expected. She offered suggestions and even did a conference call with me to explain things to me. Thanks so much!!"
"Taylor was wonderful from start to finish and she got the job done quicker than I expected. She offered suggestions and even did a conference call with me to explain things to me. Thanks so much!!"
"...Fantastic! Great communication, efficient, quick with revision. you MUST use her! Thank you!"
"Excellent web designer who is always helpful and very smart at what she does! Have used her for several projects and will keep using. Thanks!"
"Amazing! Truly exceptional service & communication. Taylor went over and above & delivered well within the time frame with in depth technical knowledge. HIGHLY recommend & will definitely buy again!"
"Taylor was a dream to work with. She was responsive, invested in designing my small business website to build its online presence, and personable and professional. Taylor took time to explain basic WordPress tools to me and offered recommendations for better site functionality. I highly recommend hiring her."
"Working with Taylor has been great for me, she really knows her work and what she's doing, she has truly been a great help to me with setting up my WordPress website, so yes I would definitely recommend her services to anyone, thanks Taylor"
"I have 3 small businesses and was trying to create a website, finally after days of frustration I found Taylor D. Lewis and it TOTALLY changed everything for me. I literally was able to get 3 websites up and going in just under a week. I have a basic informational website where I have 4 events a year with and it was so easy to set up the events for the Spring. (where have you been all my life)..."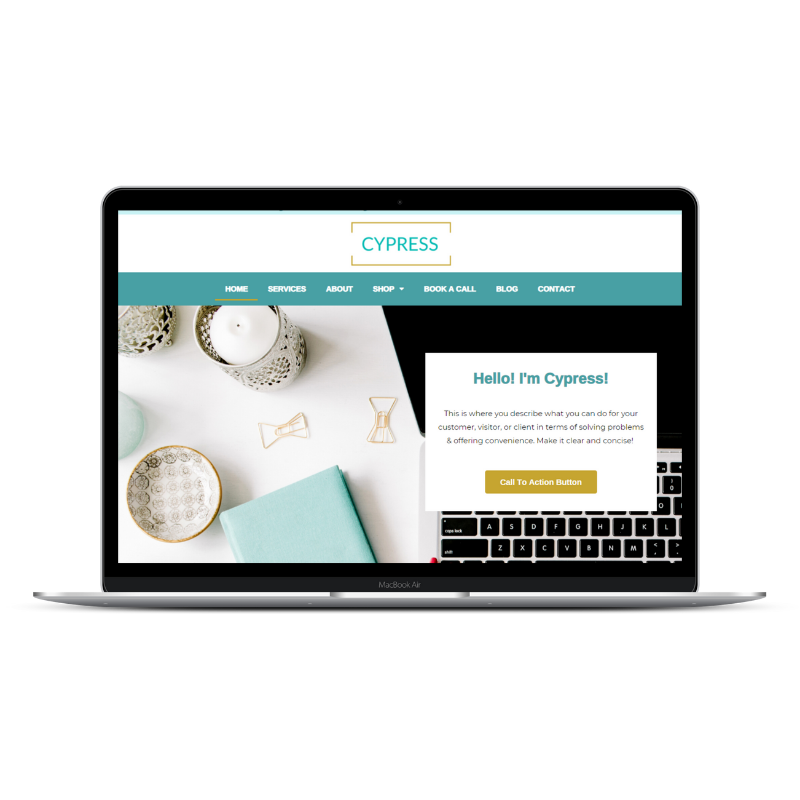 Select the payment option that works best for you at checkout. Regardless of your selection, you'll get instant access to your new template so you can dive in
Four interest-free payments spread over 6 weeks with Zip
Products You May Be Interested In